We were delighted to welcome staff and thirty-nine Year 5 children from King's Lodge School to Westmead Open Space on Tuesday 24th May. The children came to help us celebrate the planting of a new oak tree on our land to mark the Queen's Platinum Jubilee.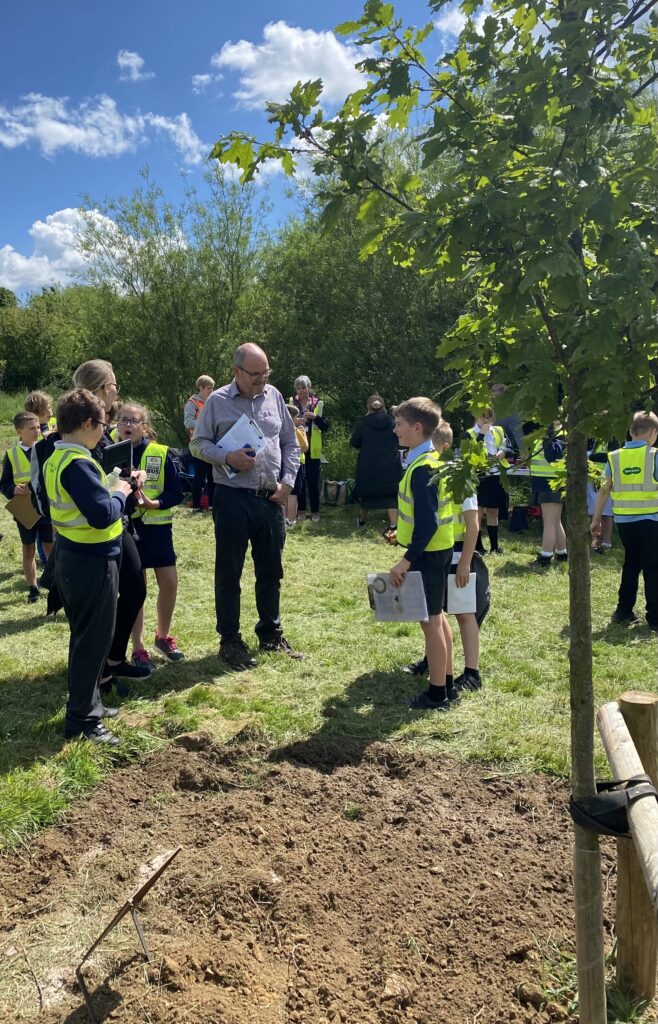 The tree was planted back in March as part of The Queen's Green Canopy – a unique tree planting initiative created to commemorate Her Majesty's Platinum Jubilee. People from across the United Kingdom have been invited to "Plant a Tree for the Jubilee", to help create a legacy in honour of The Queen, which will benefit future generations.
The QGC project aims to create a national canopy of trees to help reduce the impact of climate change, filter air, increase wildlife habitat and improve the environment for everyone.
The Year 5 children came to learn about The Queen's Canopy and to take part in trails, including around the Woodland Creatures Tree Sculpture Trail. The children were tasked to be "Tree Detectives" for the afternoon and had to identify some of the trees at Westmead Open Space. They also planted some wildflower seeds around the new oak tree and considered the importance of tree planting.
We were blessed with sunshine and after successful detective work everyone enjoyed sampling some Britvic Orange Juice and Walkers Shortbread, both companies who have the Royal Warrant of Appointment, the formal seal of approval from the Queen as suppliers to the Royal Household.
Thanks to King's Lodge School staff and children for a fantastic afternoon. We hope the children enjoy watching the oak tree grow as they do.

Photos include our Chair of Trustees – Don Steele; Trustees – Marc Allum, Annette Foster, Huw Thomas; CEO Phil Tansley, Education & Arts Officer – Laura Graham-May