Our Communications Officer, Katie, received a warm welcome at a group session for Wiltshire based charity Back On Track Stroke Rehab Service when she recently visited them to present their grant award. Back On Track are an incredible local charity who specialise in supporting young, working-age Stroke Survivors, many who have lost their jobs as a result of their stroke. 
We awarded the charity £10,000 to enhance their Vocational Rehabilitation service for Wiltshire Stroke Survivors. Back on Track offer regular group support sessions along with 1:1 visits and help for Stroke Survivors who live in Wiltshire. The Vocational Rehabilitation offered by Back On Track provides the help and support that a Stroke Survivor needs to adjust to the physical and emotional impact of their disability.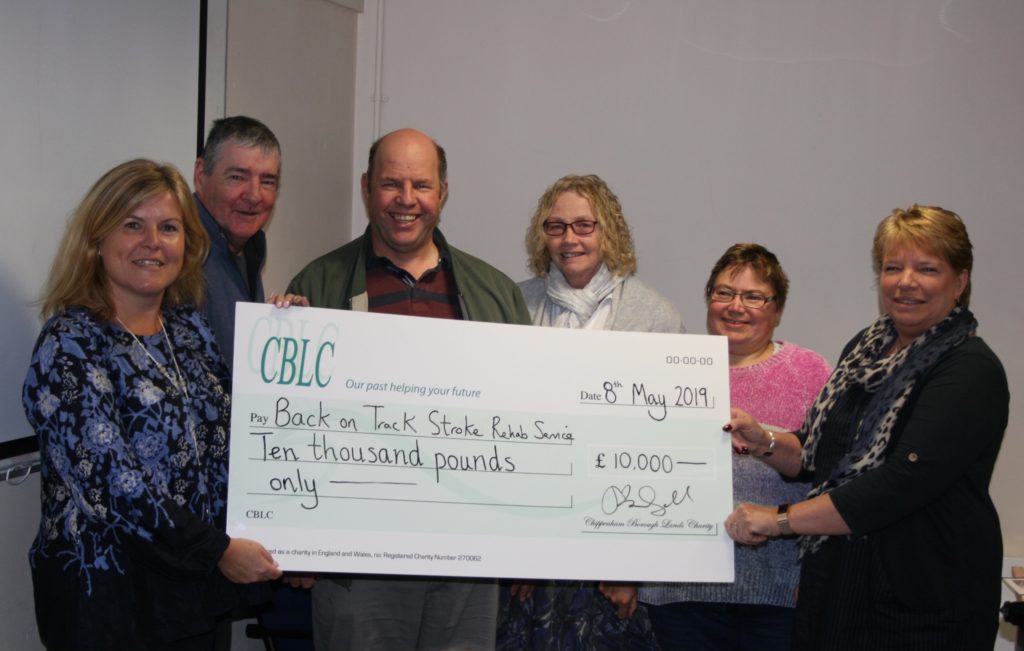 Bev Pace, Managing Director and Occupational Therapist for Back on Track explained that offering the free service is vital as most Stroke Survivors lose their jobs following their Stroke and so could not afford to access this help if there was a charge involved.
"Our Vision is to have a community in which, those affected by Stroke can access the services they need to get their lives 'Back On Track'. This grant allows us to increase the amount of therapy we can offer and will improve the recovery time for our clients" Bev Pace
It really was fantastic to get the chance to meet the group and team at Back On Track at one of their weekly group sessions. The service that Back On Track provides on a personalised individual and group basis is incredible. The supportive and positive 'can do' attitude of everyone involved at the group session was inspirational.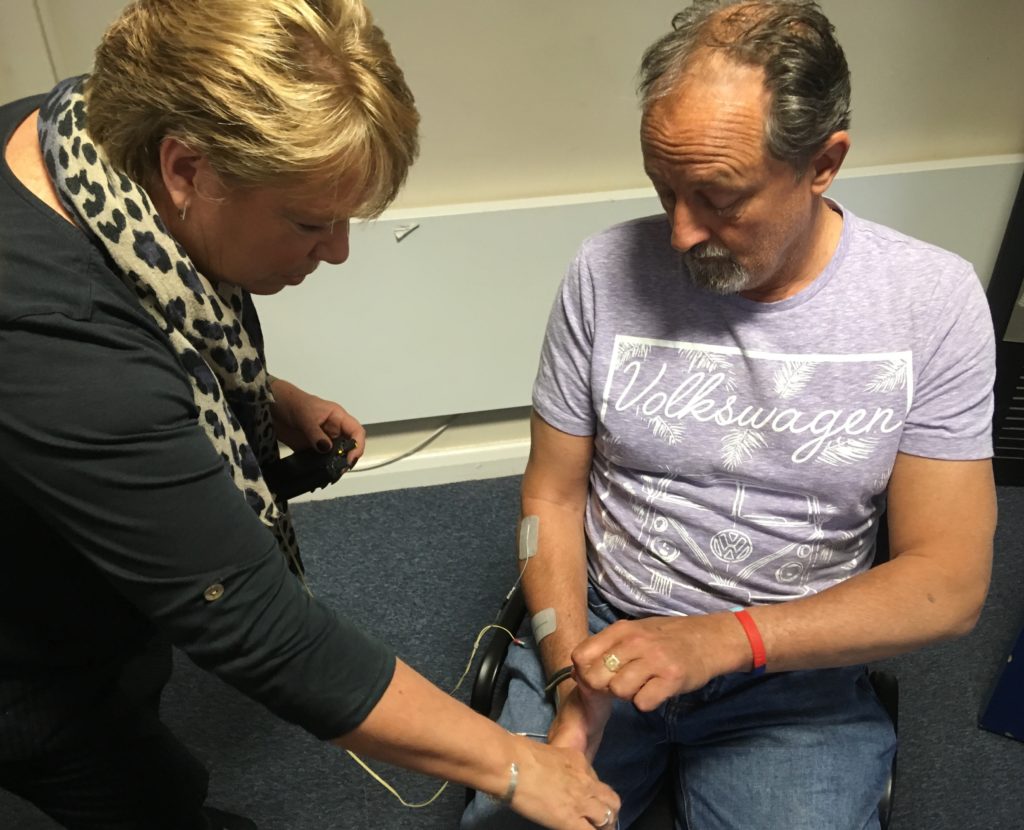 Bev has been helping Stroke Survivor, Mark Thomason, with using the Functional Electronic Stimulator to improve his hand and arm function. The FES consists of a control box, a battery and some electrodes. The electrodes stimulate the nerve that goes to the muscle.
Mark suffered a stroke at the beginning of 2015, and he was rendered severely paralysed over more than 50% of his body with no speech. He initially received support from speech therapists, occupational therapists and physiotherapists but by the end of 8 months only speech therapy remained in place and he wasn't expected to regain any use of his right arm. 
Over a two-year period with Back On Track Mark has attended the weekly support sessions and has had home visits from Bev four times per week for, in particular, to support with the application of FES for his right arm. It was really wonderful to see the increased movement in his arm and the developing movement in his hand.
When Mark was back in school – he played in a band with members of Spandau Ballet. The group split in two and unfortunately, he ended up in the 'other' group!  He is now writing a musical whilst also preparing to do a sponsored hike to raise funds for Back On Track. We wish Mark lots of luck for completing both ventures and hope that one day he will be able to play his guitar again!
To find out more about joining the Back On Track Stroke Rehab Stroke Service as a stroke survivor or volunteer, please email Bev Pace or call her on 01249 448517 or 07800793957. You can also follow them on Facebook. If you would like to donate to support this service, please visit their JustGiving page. Registered charity number 1156529
https://www.gazetteandherald.co.uk/news/17670262.charity-for-stroke-victims-gets-cash-boost/